Research at Italian LTER Sites presented in special issue
17 June 2019
The special issue, entitled "Italian Long-Term Ecological Research for understanding ecosystem diversity and functioning. Case studies from aquatic, terrestrial and transitional domains" is the first published collection of studies performed at LTER-Italy sites. The eighteen papers in the volume present research carried out at two Antarctic and 16 Italian sites, one of which includes a comparative analysis with other International LTER Sites in Northern Europe and USA. Two additional papers are cross-domain and address methodological and conceptual themes (one on data management and interoperability, and the other comparing terrestrial and marine ecosystems.
LTER-Italy comprises 79 research sites belonging to 25 different areas (parent sites) distributed throughout Italy and including one site in Antarctica and one in Nepal. The sites include terrestrial, freshwater, marine and transitional water sites. Themes addressed in the special include the effects of climate variability on different ecosystem components, changes in the composition of biological communities, studies of carbon and nitrogen cycles and impacts of invasive species.
The content of this volume underlines and confirms how observations and analyses of ecological variables and processes at multiple scales are keys to understanding important ecological relationships. Similar ecosystems can respond differently to identical changes in system drivers, depending on their inherent ecological structure and functioning, their history and spatial location within the territory and connections with adjacent ecosystems.
The insights gained by this kind of research contribute to multiple aspects: from the formulation of general laws of ecology to the development of policies to face the Grand Challenges under Global Change at local, regional and planetary levels.
Further information
Special Issue reference: Mazzocchi, M. et al (2019). Italian Long-Term Ecological Research for understanding ecosystem diversity and functioning. Case studies from aquatic, terrestrial and transitional domains. Nature Conservation 34. Web: https://natureconservation.pensoft.net/issue/1387/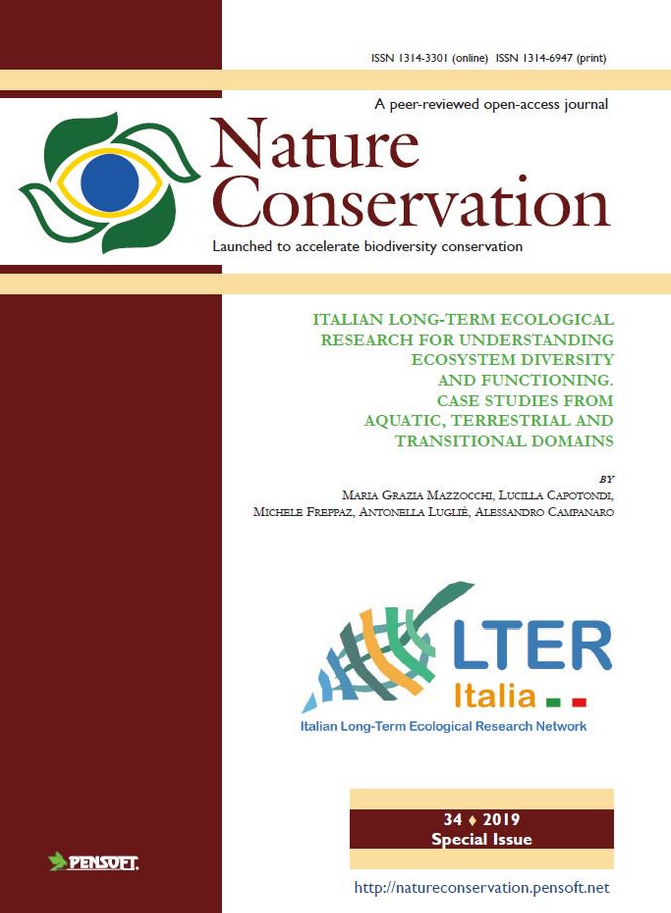 ×