LTsER Montado in Portugal is working on several active projects supported through national and EU funding
7 August 2023
The Portuguese LTsER Montado platform currently has several active research projects:
- Project RENEWAL aims tot promote the resilience of agroforestry systems in drylands to a more arid future, ensuring ecosystem functions and services. It addresses climate change effects on oak woodlands (montados), semi-natural agroforestry systems of high ecological and socio-economic importance, that are an important ecosystem type southern Portugal.
- The objective of the project LandUnderPressure - Avoiding, mitigating and restoring land under pressure to combat desertification and increase resilience to climate change in the montado is to promote the regeneration of the Montado and boost various ecosystem services, for example improving soil fertility and erosion control, climate regulation and biodiversity, including the enhancement of nature tourism.
- The project REA Alentejo has the general objective of gathering, producing, and disseminating the knowledge necessary to identify the strategies, methods and techniques for restoring Mediterranean ecosystems in the Lower Alentejo interior, as a way of reducing their vulnerability to desertification and the effects on the supply of ecosystem services. The aim is to create a replicable model that allows restoring agricultural and forestry productivity in the semi-arid areas of southeastern Portugal.
- The main objective of the Fight Desert project is to develop actions in areas susceptible to desertification. Actions for the improvement and restoration of Mediterranean ecosystems will be implemented in six locations in Alentejo and Lezíria, namely in three LTER Montado Sites (research and monitoring stations of the Long-Term Ecological Studies platform).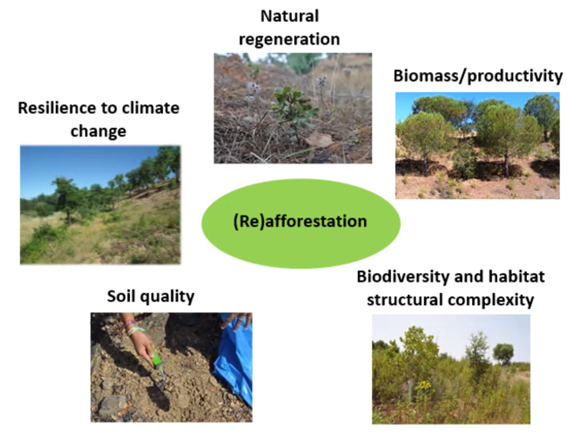 ×
Focus areas of the projects